West Cheshire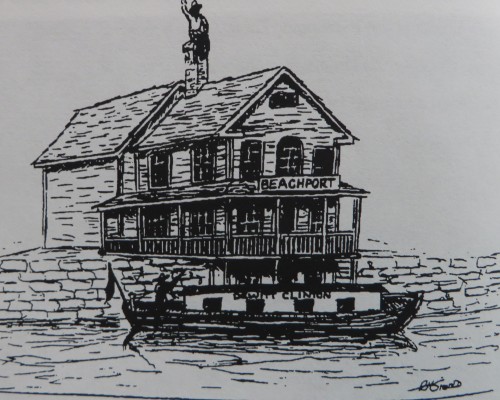 The Town Center of Cheshire, with its Town Hall and Church Green, sits upon a drumlin-like hill. At the base of the western side of that hill is the area called West Cheshire, a bustling place where canal boats took on cargo at a lively port called Beachport, from 1828-1848.
Beachport Drawing Bo Sibold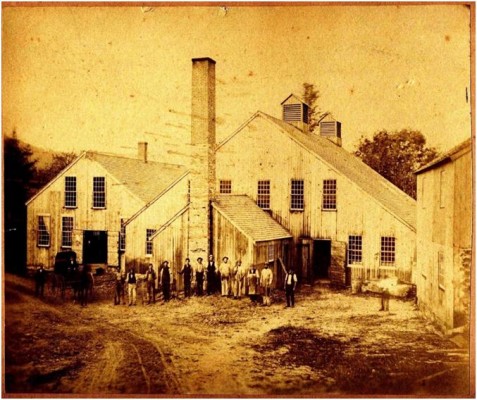 Later, in 1850, when trains traveled the former Farmington Canal route, the Cheshire Manufacturing Company (later re-organized as the Ball & Socket Company) was built alongside the rail line, at the location of the former canal port.
From 1850 to 1994, out of that factory came a stream of metal products notably buttons and fasteners shipped all over the world. Over fifty workers, many of whom lived nearby, used a wide variety of skills to make the metal products; they were buffers and polishers, die setters, platers, shell cutters, stampers, assemblers, engineers, and machinists. They made decorative and functional brass military uniform buttons for four wars, jewel-like glass buttons, commemorative seals, and in World War II, meeting the demands of war, increased their production lines to include parts for: machine guns, gas masks, walkie-talkies, and parachutes. Since the factory's closing in 1994, the wooden buildings have stood empty and unused but are now in the process of being restored to become the Ball & Socket Arts Center.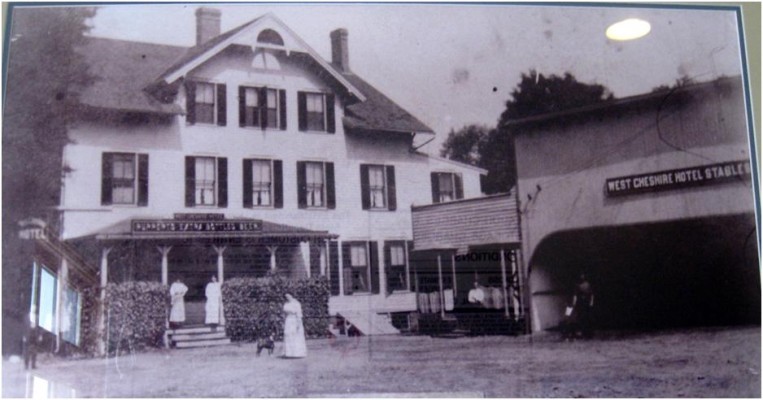 Cheshirepedia Photo, from the collection of the Cheshire Historical Society.   Sign on the porch roof says, "Ruppert Bottled Beer"
Across the train tracks from "the button factory" was a train depot with a station agent who received news quickly via telegraph; and across from the depot was the West Cheshire Post Office. There were a number of stores and the West Cheshire Hotel and Stables.
All of these building are gone now, but a look at the 1882 Bailey's Map of Cheshire brings the area back to life.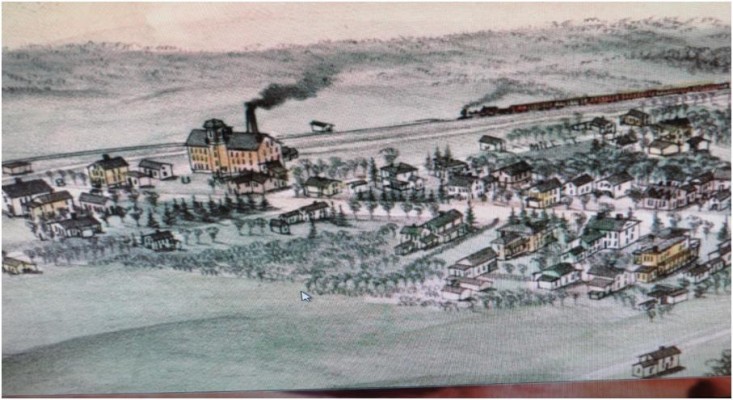 West Cheshire (Portion of the Bailey Map 1882)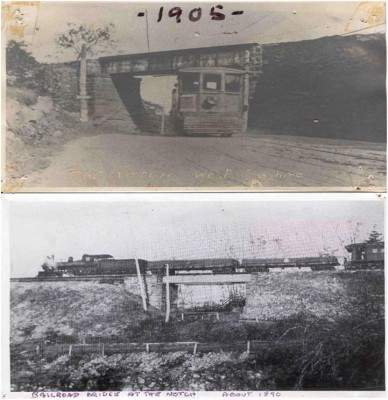 The boundaries of West Cheshire vary from map to map. The most commonly accepted western edge is "The Notch" a natural cut or pass through the traprock ridge that forms Cheshire's western boundary. Through this pass ran a trolley line to Prospect, and over it ran a railroad line to Waterbury. A favorite photo shows the train and the trolley traveling over and under respectively, at the same moment!
Today West Cheshire still bustles. The train is gone, but a walking/bicycling trail (the Farmington Canal Heritage Trail) is being built along that same route. The arts center (with a projected opening in 2017) is surrounded by a variety of businesses: restaurants, two lumberyards, an automobile repair place, hair salons, and several stores including one at the Notch. A few of the button factory workers' cottages remain on Willow Street and several spacious homes where the button factory owners lived are on the West Main hillside, above the factory.
Jeanné R. Chesanow is a contributing writer to Cheshirepedia.