Paul Klimpke became part of the history of Cheshire, CT in 1910.  At the age of 42, while on the faculty of the Taft School, he was chosen as the new headmaster of Cheshire Academy.  In 1912 Paul Klimpke was also chosen as the first Fire Chief of the newly formed Cheshire Fire Department.
Paul Klimpke was born on March 17, 1868, in Brieg, Silesia, Germany.  His parents were Wilhelm Friedrich and Marie (Reisig) Klimpke.  At the age of 16, traveling alone, he sailed from Hamburg aboard the Hamburg-Amerika liner Lessing on March 30, 1884, to the port of New York.  Initially, he lived in Hartford, CT and prepared for college at the Hartford Public High School.  He entered Yale University in 1888 in the class of 1892.  While at Yale he was on the sculling team, won a Berkeley Prize for Latin Composition, and joined the Eta Chapter of the Zeta Psi fraternity.  He received his A.B. degree and later an A.M.  From 1893-94 he was an instructor in German at the Sheffield Scientific School of Yale.  On October 22, 1892, he became a naturalized citizen of the United States by the Common Pleas Court, New Haven, CT.  He joined the faculty of the Taft School (Watertown, CT) in 1895, where he remained until his appointment as headmaster of the Cheshire Academy in 1910.  He married Mary Julia Hemenway on December 22, 1897.  Their first child, Gertrude, was born December 15, 1898.
This photo was published in the Taft Bulletin (vo.67 no. 1, p. 9, Fall, 1996).   From the left are Mr. and Mrs. Paul Klimpke with their daughter Gertrude. Horace Taft (reading the papers) and wife Winnie Taft (holding the collie) and two members of the faculty are also pictured.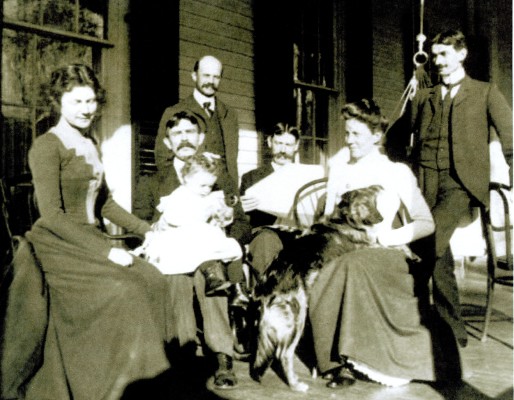 Besides becoming Headmaster of the Cheshire Academy, Professor Klimpke served the Town of Cheshire in another capacity.  Following the Waverly Inn fire of January 23, 1912, several of Cheshire's leading citizens quickly organized the Cheshire Fire Department.  The officers of the new organization chose Paul Klimpke as their first Fire Chief.  He served from 1912 to 1914, and was succeeded by Irving M. Guilford.
Paul Klimpke served as Headmaster of the Cheshire Academy from 1911 to 1920.  According to his obituary published in the Papyrus (Taft School, vol XLII, no. 17, p. 6, Feb. 22, 1935) "A nervous breakdown made him resign that post."  The item goes on to state that when he recovered, he joined the faculty of the Bristol (CT) High School, where he taught for eight years.  Paul Klimpke died "suddenly" on the morning of February 2, 1935 at his home in Watertown, CT.  His wife, Mary Hemenway Klimpke, died suddenly at her home in Watertown, CT on September 25, 1944.  Paul Klimpke is buried in the Evergreen Cemetery, Watertown, CT.
Dr. Robert Chesanow is a contributing writer to Cheshirepedia.