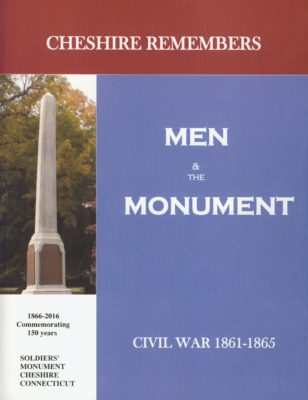 Cheshire Remembers Men and the Monument by Jeanné Chesanow.  128pp. with many illustrations, photos and index.
Cheshire Remembers is the only book about Cheshire in the Civil War.  It begins with a description of the small farming town of Cheshire, a peaceful place of dirt roads and quiet evenings.  When in 1861 several Southern states leave the Union to form their own Confederacy,  newly inaugurated President Lincoln calls for men to enlist in a war to restore unity.  Men from Cheshire enlist right away and continue to enlist over the next two years, until 163 men from town are soldiers.  This book tells the stories of these soldiers' lives and deaths, gives details about the regiments they joined and the hardships they endured.  In memory of the men who lost their lives, a granite monument was placed on the Cheshire Green. This book describes Cheshire's monument, the name plaques added later, and suggests that some names are still missing.  There are many images throughout the book including photos, sketches, and engravings.
Cheshire Remembers Men and the Monument is for sale at the Cheshire Historical Society during open hours, and directly from the author, Town Historian Jeanné Chesanow ([email protected]). Introductory price: $10.00.